This summer you can follow a trail of wildflower illustrations around Snape Maltings and learn more about its incredible wildlife. With beautifully illustrated boards dotted around site and a map in our children's activity book to help you find them, complete the puzzle and win a prize.

Find our children's activity books in the Box Office, and return with the completed puzzle to claim your prize.

Yarrow
Look in patches of grass to find lots of charming yarrow plants. A tough wildflower, yarrow has beautiful bundles of white flowers. The flowers appear from June to November and if you get close you will be able to smell their strong scent. Yarrows have also long been popular as a good luck charm.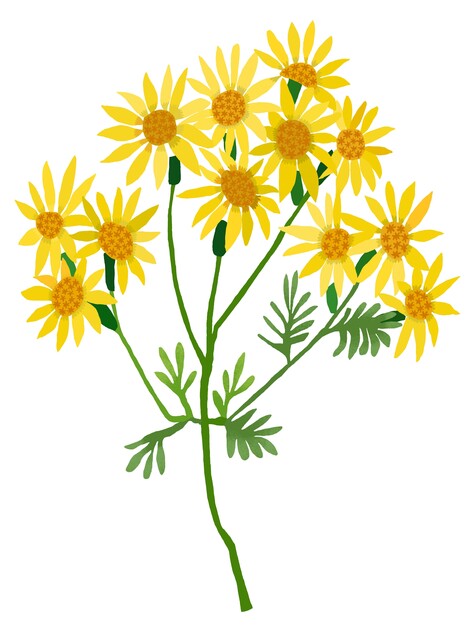 Ragwort
A favourite with insects, in particular bees and moths, ragwort is a pretty plant with long stems and small flowers similar to daisies. Look out for bright bursts of cheerful yellow around our grounds to find this wildflower.
Mallow
Mallow is a beautiful plant which has deep pink petals with dark purple. The striking colour can be spotted throughout our heathland. During the summer, the flower produces plenty of golden nectar to help insects such as bees and butterflies thrive. Mallows have a few different nicknames, and are often called 'cheese cakes'.
Tufted Vetch
A tufted vetch has vivid violet flowers hanging off of long green stems and is a part of the pea family. Also known as cow or bird vetch, pairs of green leaves grow up the stems like ladders. Look towards our reedbeds for flashes of bold purple as these flowers love the water.
Broom
Broom is a large, cheerful plant with bright yellow flowers resembling pea-pods. Up close on the heathland you will be able to smell their lovely vanilla-like scent. The flowers used to be worn for courage and are seen as a symbol of strength. Its unique name comes from the stems being tied together to create brushes, in particular broomsticks.
Wild Radishes
Wild radishes are plants with large, lobed leaves which are also incredibly hairy. The flowers are in clusters of four white petals which have dark veins running through them.
Mugwort

One of Britain's most common weeds, Mugwort has bright green leaves and many small, pale flowers. If you look underneath the plant, its leaves will be silver in colour and fuzzy to touch. Called the Mother of Herbs in Europe from the Middle Ages, Mugwort was known as a magical plant.
Pineapple Mayweed
The name for this plant comes from its sweet, pineapple-like scent as well as its distinctive and bright yellow cone-shaped head without petals.
Brie Harrison is a Suffolk artist who takes inspiration from the colour and vibrancy of the natural world. The wildflowers that can be spotted on walks around Snape Maltings are captured beautifully in her trademark style and showcase the beauty and variety of Suffolk wildlife, including ragwort, pineapple mayweed, and tufted vetch.
Find out more about Brie on her website. You can also find some of her original artwork in the Maltings Gallery, and a wide range of cards and prints in House & Garden.
You might also like
Summer Music Makers at Snape Maltings: 5-7 years

Join us at Snape Maltings for free afternoons of music making during school holidays, exploring musical styles from jazz fusion to orchestral music.

Wednesday 2 August, Thursday 17 August