10 things you may not know about Benjamin Britten and the Royal Family
Stories
1. Benjamin Britten composed four works for the Royal Family, and arranged the National Anthem specially for Queen Elizabeth II (his version is often used today).
Image gallery
A gallery slider
2. The Queen opened Snape Maltings Concert Hall twice. The first time was in 1967, but on 7 June, 1969 the Concert Hall was gutted by fire. Britten wanted the hall rebuilt, "just as it was", and remarkably it opened in time for the 1970 Festival. The Queen duly returned, commenting that she hoped not to be asked to come back a third time. (On the second occasion, as she had already officially opened it in 1967, this was considered more a royal visit.)
3. Benjamin Britten and Peter Pears had a porch built for The Red House especially for a royal visit – stepping in off the drive didn't seem quite grand enough.
4. Benjamin Britten had to receive permission from the Queen before beginning work on the opera Gloriana to celebrate her coronation in 1953.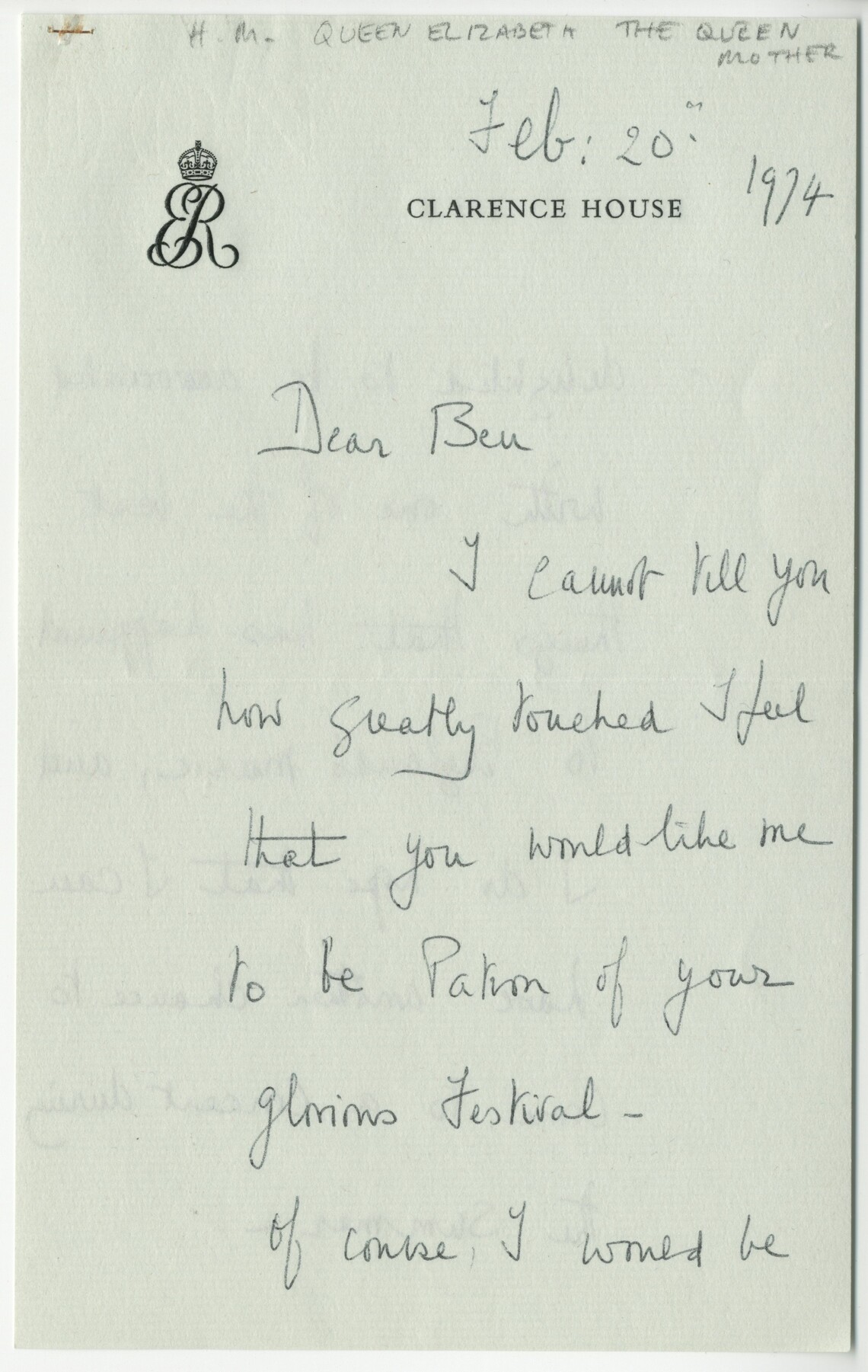 5. The Queen Mother was Patron of the Aldeburgh Festival from 1974 until her death in 2001. The Queen Mother had a particularly close relationship with Benjamin Britten and Peter Pears, and the Britten Pears Arts Archive at the Red House contains twenty items of correspondence between her and Benjamin Britten.
6. The song cycle A Birthday Hansel was composed at the Queen's secret request to Benjamin Britten as a gift for the Queen Mother's 75th birthday.
7. Benjamin Britten wrote the Jubilate Deo in C in 1961 for St George's Chapel, Windsor, at the request of Prince Philip, the Duke of Edinburgh.
Image gallery
A gallery slider
8. When in 1976 Benjamin Britten was offered a Life Peerage he was uncertain whether he should accept it, but his nurse Rita Thomson threatened never to talk to him again if he didn't.
9. The Letters Patent for Benjamin Britten's Life Peerage is decorated with local birdlife, specifically a Bearded Reedling. Appropriate as Benjamin Britten and Peter Pears were avid bird watchers, and a nod to how significant Britten's local landscape was to him.
10. Benjamin Britten's last completed piece, Welcome Ode, was written for the Queen's visit to Ipswich for the 1977 Silver Jubilee, to be performed by local schoolchildren. The Queen and Prince Philip were present at the concert where this was first performed, attending especially for that part of the programme.