Archive Treasures: Two Pianos and a Gamelan
Stories
The audio-visual collection in the archive of Benjamin Britten and Peter Pears gives us a fascinating overview of the two men's sound-world, the music that they listened to and that informed their own art. It also includes recordings of their own performances. And sometimes an item is both: a recording of one or both of the men performing something from an outside source that will feed into their own work later.
Most of the recordings in the two men's collection are 12" vinyl LPs of the format that dominated the latter part of the twentieth century, but there are exceptions: today we feature one those. The item that carries our serial number LP924 is thicker, and looks like a book in its position on our shelf. Lifting it down, it reveals itself to be a set of 78rpm disks, bound together like the pages of a book and protected by a thick brown cover that proclaims it to be set no.17 in Schirmer's Library of Recorded Music. The music is also out of the ordinary, straddling the twin traditions of western classical and eastern traditional music.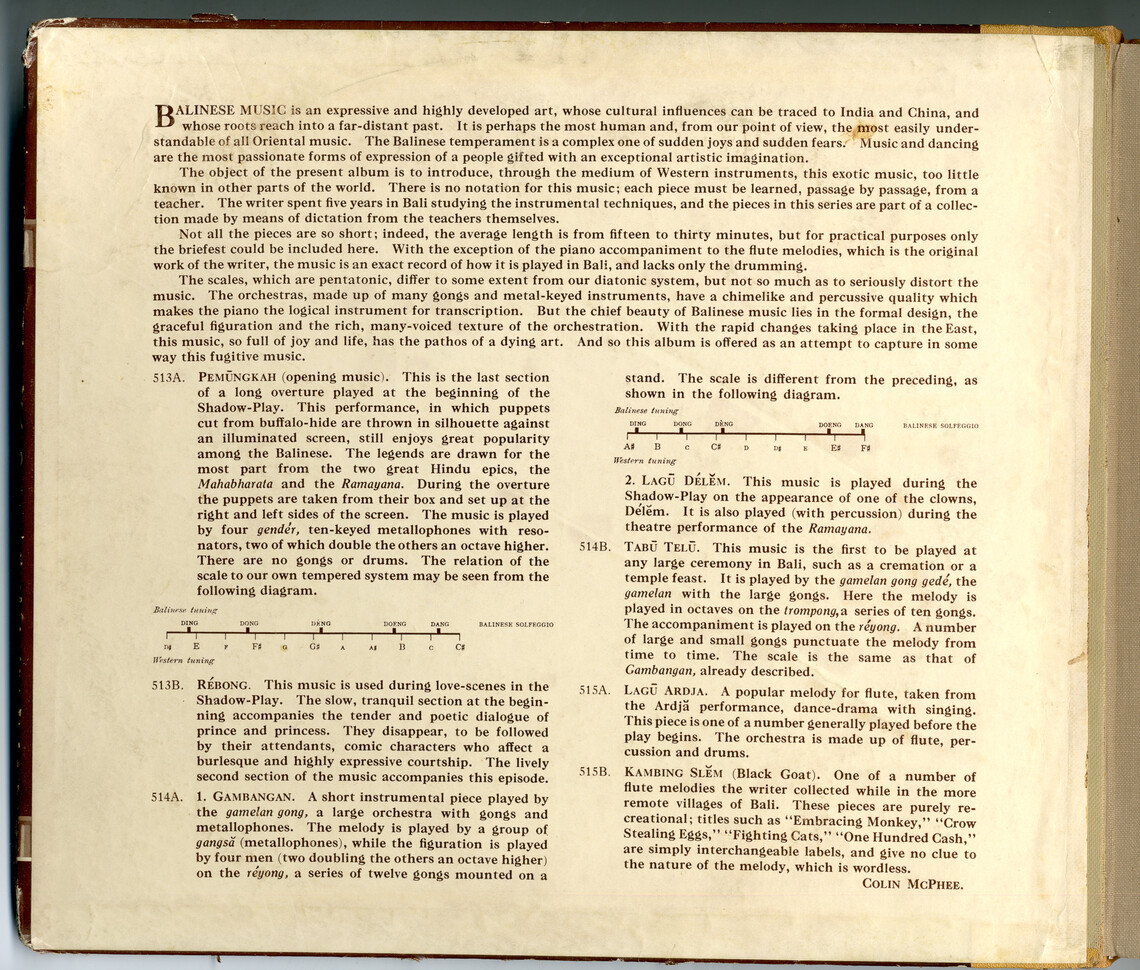 LP924 takes us to the very early years of Britten and Pears' relationship, the early 1940s, when the two men were in the United States, and to the friends and acquaintances around them at that time. During their time in the USA they had a close relationship with William and Elizabeth Mayer of Amityville, NY, a town on Long Island outside New York. William Mayer was a doctor and psychiatrist who was Medical Director of the Long Island Home here. His wife Elizabeth took the young men under her wing, making sure that they stayed healthy and ate properly. For some of their time in New York they stayed with the Mayers, and whilst they also spent time in a notoriously bohemian shared house on Middagh Street in Brooklyn (of which W.H. Auden was the leading spirit) the Mayers were always there to fall back upon.
Britten and Pears were not the only link between Amityville and Middagh Street. Moving into the bohemian shared house shortly after they moved out was the Canadian-born composer and musicologist Colin McPhee: McPhee had been one of William Mayer's patients in Amityville. Born in 1900 and thus in his forties when he met Britten and Pears, McPhee had studied with Edgard Varèse and, in 1931, married Jane Belo, an anthropologist and follower of Margaret Mead. With her he travelled to Bali and became fascinated by the music of the gamelan, the percussion ensemble that is core to that area's traditional music, transcribing it and composing in that style: in 1936 he wrote Tabuh Tabuhan: Toccata for Orchestra in the musical idiom of Bali, using western instrumentation and notation but with a core group of two pianos, celesta, xylophone, marimba, and glockenspiel acting as a gamelan. In 1939 he and Jane divorced and by the time that he moved into Britten and Pears' orbit he identified as homosexual.
LP924 is a product of McPhee's first years back in North America: an arrangement of some of the music that he had learned in Bali. As he explains in the notes inside the sleeve, Balinese music is not notated but learned through the teacher dictating it; McPhee had learned the pieces this way and then transcribed them for performance by western instruments. Some pieces involve the flute, with piano accompaniment composed by McPhee, but most important here are several pieces arranged for two pianos, performed by McPhee and the young Benjamin Britten. The personal connections are hammered home by inscriptions to the Mayers on the inner sleeves: McPhee writes "For William & Elizabeth, Devotedly, Colin, June 5 1941" while below Britten's characteristic hand adds "with best love always, BEN" (after two crossed-out tries at the signature, his third and definitive version was in capitals). In the archive, we hold documentation of Britten's payment for the recording.
This LP was not the only collaboration by the two composers during these years: McPhee also arranged Britten's Variations on a Theme by Frank Bridge for two pianos, to be used in a ballet (Jinx, by Lew Christensen). Once Britten and Pears returned to the United Kingdom, Britten took part in a performance of three of the pieces recorded here, in a 1944 Wigmore Hall concert of music for two pianos, McPhee's transcriptions sitting alongside works by Mozart, Debussy, Britten and Lennox Berkeley. However, the link with McPhee faded away. In the USA McPhee, depressed and drinking heavily, stopped writing music for some years, before becoming Professor of Ethnomusicology at UCLA in the late 1950s and also pursuing a career as a jazz critic. Britten and Pears' careers took turns less obviously avant-garde than the older man's. In the archive there is no correspondence with him after those American years. The Balinese music to which McPhee had introduced them, however, continued to have an effect. In 1955 Britten and Pears spent some weeks in Bali at the end of a Far Eastern tour; holiday photos and correspondence show them relaxing happily, trying on local costume and encountering the local music, encountering again the percussion-driven sound-world to which McPhee had opened the door. Out of this visit came Britten's only ballet, The Prince of Pagodas, whose sound is heavily influenced by the music of Bali. For a professional composer, any encounter with another sound-world, another set of musical assumptions, is potentially fruitful: although Britten, unlike McPhee, was content to work within the western tradition into which he was born, his ears were open to the sounds of other cultures and to the way that each side of this cultural interchange might enrich the other.
- Dr Christopher Hilton, Head of Archive and Library