Archive Treasures: Kathleen Ferrier's musical friendships
Stories
Last year our archive received a collection of memorabilia relating to contralto Kathleen Ferrier, including some fascinating items which illustrate some of her closest friendships from the musical world. Ferrier's friendship with conductor Sir John Barbirolli and his second wife, the oboe player Evelyn, was particularly affectionate. One of the more unusual items in this new collection is a decanter given to Ferrier by Evelyn in the early 1950s.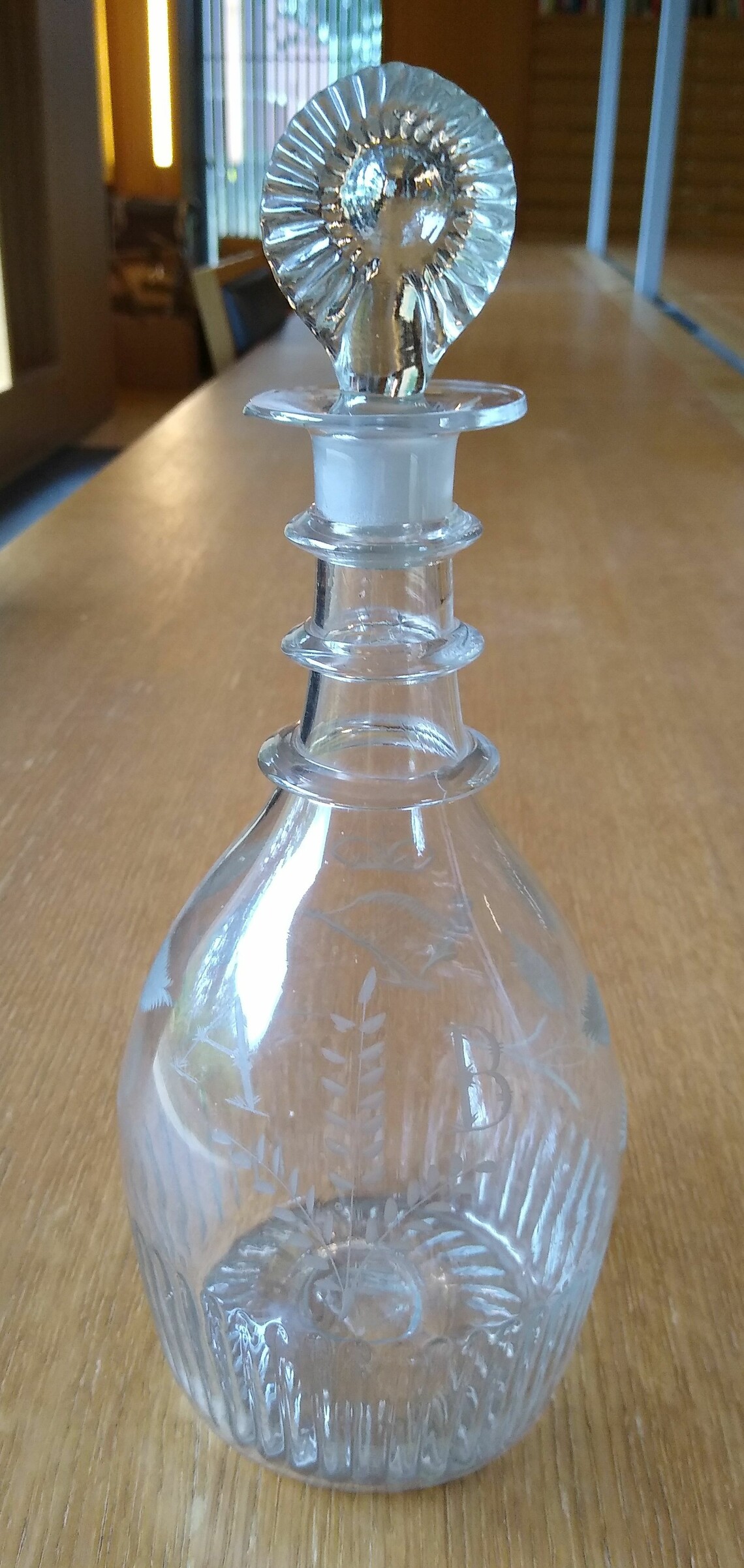 Ferrier had given her friend some concert dresses that she no longer needed, and the decanter was a 'thank you' gift. Evelyn's accompanying note is very touching: 'Kate darling: this is a tiny thank you for those lovely additions to my wardrobe – your Orfeo harp is here + one apposite initial. Anyway, the crown is for the best of all singers + most dear of wonderful of people. With much love, Evelyn'
In 1951 Ferrier had given concert performances of Gluck's Orfeo ed Euridice in the Midlands and north of England with Barbirolli and his Hallé Orchestra. Evelyn's reference to her 'harp' means the lyre that Orfeo carried and 'one apposite initial' refers to the initial B for Barbirolli.
At Barbirolli's instigation, Ferrier revisited Gluck's work in 1953 when she performed at the Royal Opera House in a new production sung in English translation, directed by Frederick Ashton. These were to be her last two public performances.
During the last two years of Ferrier's life many of her performances in the UK were with Barbirolli and the Hallé Orchestra, singing works such as Elgar's The Dream of Gerontius, Handel's Messiah and Mahler's Das Lied von der Erde. Barbirolli wrote to his orchestra on the day Ferrier died, 8 October 1953, to tell his friends of the passing of 'our beloved Lancashire lass Katie Ferrier'. He wrote: 'I know you all adored her, + she adored this orchestra above all others, + was never afraid to say so with complete North Country frankness, come what may. I have no need to extol to you, her wondrous gifts of voice, musicianship + Being'
Barbirolli wrote a moving and heartfelt chapter entitled 'Kathleen…The Last Years' for the memoir of the singer edited by fellow Lancastrian Neville Cardus and published a year after her death. Here Barbirolli remembers with affection his friend whom he and Evelyn always called 'Katie'.
Britten too contributed to this memoir – a chapter called 'Three Premieres' in which he recalls her roles in the premieres of The Rape of Lucretia in 1946, Spring Symphony in 1949 and Canticle II 'Abraham and Isaac' in 1952. Britten writes of her work preparing for the title role in The Rape of Lucretia – a role she alternated with Nancy Evans during the opera's extended run at Glyndebourne: 'in no time her warm friendliness and keenness on any serious artistic matter made her a member of the 'family' which was planning this operatic venture. … in fact, her close friendship and friendly rivalry with the other Lucretia, remains one of the happiest memories of that time'
This 'family' soon went on to form the English Opera Group, with the aim of creating and establishing a living repertoire of opera in English, and Ferrier was a founding member. Although she did not perform any other opera than The Rape of Lucretia with the Group, she did take part in a series of concerts given by her, Britten and Pears to raise funds for the Group and for which Britten wrote Canticle II.

Britten fondly remembered his final performance with Ferrier of Canticle II during the 1952 Aldeburgh Festival when she was in town convalescing but joined him and Pears in the parish church for their yearly recital, giving a touching performance which, he wrote, 'Many people have said they will never forget … the beautiful church, her beauty and incredible courage'.
Pears was a fellow performer in each of Ferrier's three Britten premieres. Britten first heard Ferrier sing at her performance with Pears of Handel's Messiah in Westminster Abbey in May 1943 and wrote of the occasion 'I was impressed immediately by the nobility and beauty of her presence, and by the warmth and deep range of her voice'. Ferrier and Pears frequently worked together travelling the length and breadth of the country giving performances, in particular of Messiah as well as Bach's St Matthew Passion – indeed we hold in our archive programmes for six joint performances of each of these works between 1945 and 1948 in places as far apart as Exeter, Neath and Blackpool.
We feel the warmth and ease of Ferrier's friendship with Britten and Pears, as well as her natural humour, in her letters held our archive. I will leave the last words to her in this extract of a letter she wrote to 'Dearest Ben' in February 1952.
- Judith Ratcliffe, Archivist