Archive Treasures: Imogen Holst's scrapbooks and The Pipers' Guild
Stories
Amongst Imogen Holst's papers held in our collections are ten large scrapbooks which she started as a student at the Royal College of Music in 1926, and continued to put together until 1941. These are fantastic, interesting and colourful volumes. She pasted a myriad of ephemera into the volumes – newspaper cuttings, tickets, programmes, photographs, postcards, letters, drawings – writing captions next to the items. The volumes tell many stories, firstly about Holst's friendships, travels, interests, education and early career but also more widely about the cultural and musical life of pre-war England.
One story which runs as a thread through her 1930s scrapbooks is the establishment of The Pipers' Guild which Holst was closely involved in as she enthusiastically supported The Guild in many ways.
Margaret James, a Gloucestershire schoolteacher, had, since the 1920s, been teaching children and amateur musicians how to make their own pipes out of bamboo and then to play them. She invited Holst to one of her classes in August 1932 and it was at this meeting that The Pipers' Guild was formed with the threefold aim of encouraging people to enjoy making, decorating and playing bamboo pipes.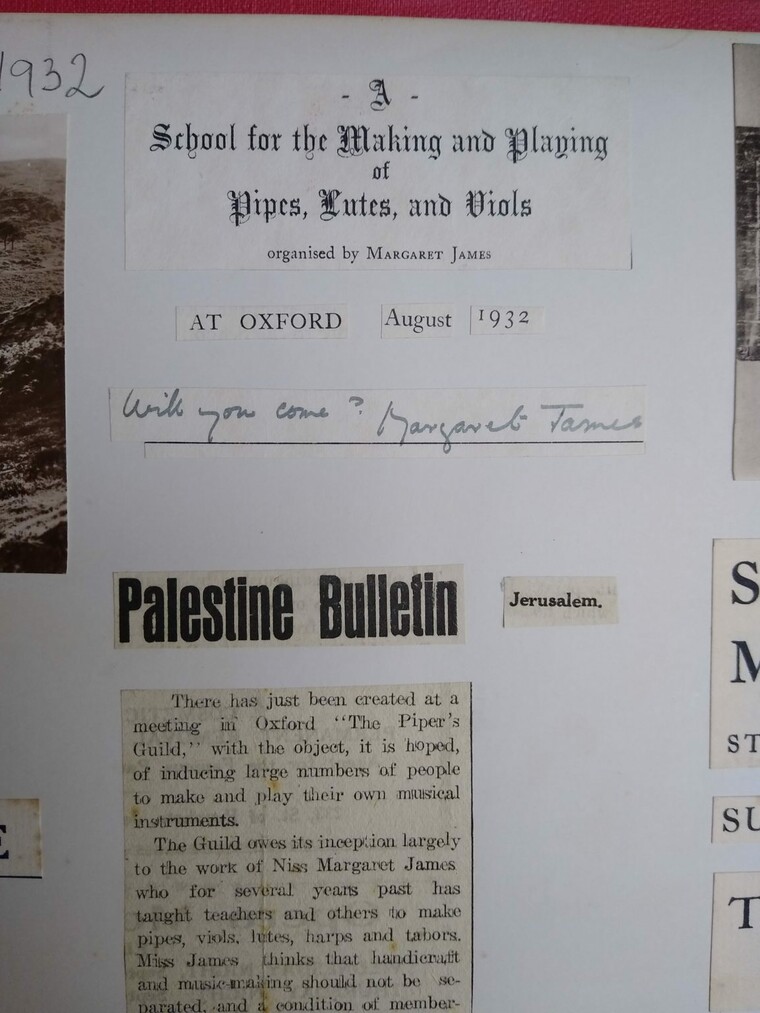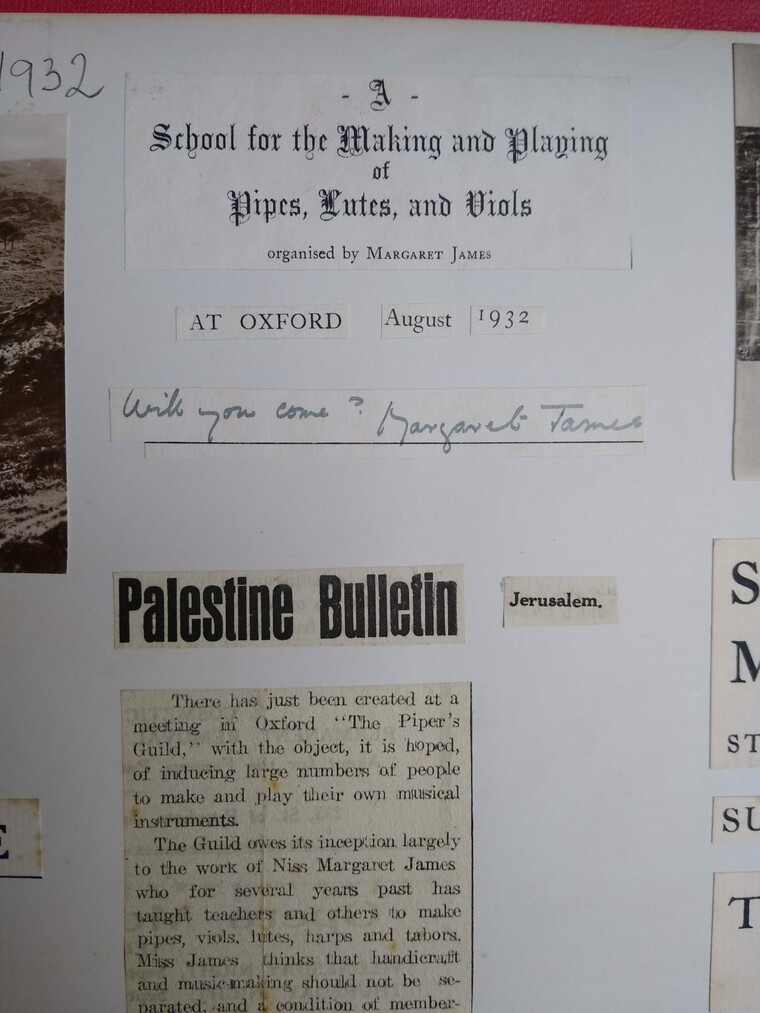 Holst helped immediately by arranging old English airs for performance on pipes only, published in 1932 as 'A Book of Tunes for the Pipes'. These are a collection of country dance tunes taken from Playford's 'The English Dancing Master' (a favourite source book of hers) as well as madrigals and part songs. Holst published further music for pipes throughout the 1930s, mostly arrangements of traditional folk songs and dance tunes, with some for voice and pipes. With this work Holst could pursue her interests in both education and folk music. Her 1934 original composition for pipes, Five Short Airs on a Ground for pipes, was particularly useful for learners. The publication notes that 'In each of these pieces the 'ground' is meant to be played by beginners, and can, if necessary, be played on unfinished pipes with only two holes'.
Amongst other composers writing for pipes at this time was the Holst family's close friend Ralph Vaughan Williams. A keen supporter of The Guild, he was elected it's President in 1933. An invitation pasted into Holst's scrapbook shows him hosting a Guild event in 1935 with her leading the community playing.
Holst also became involved, with James, in teaching classes and giving lectures on pipe making and playing. Adverts, programmes and press reviews for several of these are pasted into her scrapbooks.
Holst and James held Weekend Schools for making and playing pipes in Burford, Oxfordshire. One such Pipe Weekend held in 1934 included, as well as much playing conducted by both ladies, a session on 'Hints on Conducting' by Holst. Holst was at this time establishing herself as one of the first women conductors. Throughout her life she was also keen to encourage and help amateur conductors publishing her book 'Conducting a Choir: a Guide for Amateurs' in 1973.
Holst found she could combine her enthusiasm for folk dancing as well as her work for the English Folk Dance and Song Society with her wish to encourage pipe playing and to inspire amateurs. A cutting in her scrapbook reports that she invited pipers to join her country dance band finding their simple homemade instruments entirely suited to accompanying folk dancing – 'The speed is a great thrill for the players, who are obliged to keep pace with the dance. After the bewilderment of the first plunge they find that sheer necessity drives them along. It is first-rate training in rhythm and agility'.
Holst's activities in support of The Piper's Guild were typical of the type of work she was doing at this time – and indeed work she continued throughout her life. Having left the RCM in Summer 1930, she was at the start of her career and using her skills as arranger, composer, conductor, public speaker, teacher and organiser to earn a living as freelance musician and to inspire enthusiasm for music in others.
With her work for The Guild, Holst was able to combine several of her passions – for preserving and spreading our folksong and dance heritage, for encouraging amateur and community music making, and for music education – passions she held for life. Holst went on to arrange and compose music for the recorder as another simple instrument useful for education, with her playing an important part in its increasingly widespread use in schools. Holst was indeed a pioneer, composing throughout her career for pipes and recorders as well as for brass band and hand bells, bringing these instruments into the art music or cultivated music worlds.
A press cutting reporting on the inaugural meeting of The Guild in August 1932 pasted into Holst's scrapbook reads that 'a condition of membership of the Guild is that one should have made and be able to play one own's pipe. Also members may not sell their own pipes but can only give them away'. Holst did not give her pipes away – we are pleased to hold the pipes she made and decorated for herself in our collections.
- Judith Ratcliffe, Archivist