Archive Treasures: Britten's Viola
Stories
Benjamin Britten—violist. Find out what our archives tell us about the composer's beautiful 19th-century viola and the story of its ownership
'Benjamin was a very good violist.' This rare comment on Britten's facility with the viola came from violinist Charles Coleman, son of Mr. C.J.R. Coleman, organist of St John's Church, Lowestoft which Britten attended as a child. The younger Mr Coleman recalled Britten's viola playing when, in the spring of 2003, he paid a visit to The Red House. Having performed with the composer on several occasions (with Britten playing either viola or piano), he was well placed to judge his musicianship.
Britten took up the viola at the age of 9. Although it never replaced the piano as the composer's first instrument of choice, it remained important to him. Diary entries in the 1920s and 30s mention his diligent practice and lessons on the instrument with his teacher Audrey Alston. And during these early years, chamber pieces and works for orchestra that he composed, such as his Introduction and Allegro for Viola and Strings of 1929, indicate how it captured his imagination. Significant later works, notably the John Dowland-influenced Lachrymae, op. 48, show that this interest never waned. Originally composed for viola and piano and premiered by William Primrose during the 1950 Aldeburgh Festival, Britten arranged the piece for viola and string orchestra for violist Cecil Aronowitz in the final year of his life.
A photograph of 1955 shows Britten in the company of fellow Aldeburgh Music Club (AMC) members rehearsing Schubert's Quintet in C in Britten and Pears' home, Crag House. It is the only image we have in which the composer is playing (or preparing to play) the viola.
The instrument he possessed has an interesting history. A Certificate of Authentication from W.E. Hill & Sons informs us that it was made in 1843 by musician and instrument maker Francesco Guissani. It is thought to have been used by him when he was a member of the orchestra of La Scala, Milan. According to Charles Beare, of J & A Beares Ltd, the instrument is very similar to those made by the 18th century Milanese maker, Carlo Ferdinando Landolfi.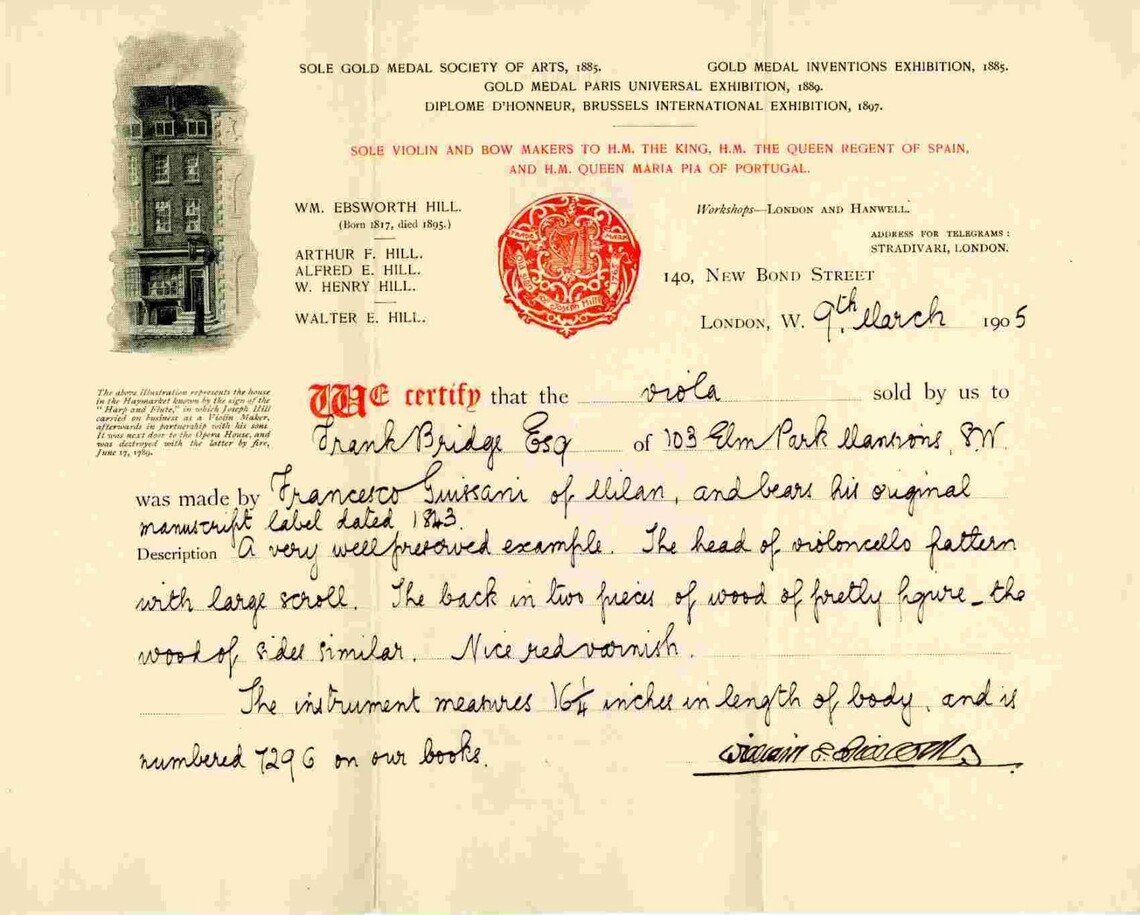 After Guissani's death, the viola was sold through Hill & Sons to composer and violist Frank Bridge. Bridge's importance to Britten is of course well known and is in part symbolized by a touching gesture Bridge made when Britten and Pears embarked on their journey to North America in 1939. According to biographer Humphrey Carpenter, when Britten and Pears arrived at Southampton on 29th April they found Frank and Ethel Bridge waiting for them at the docks. As they boarded the Ausonia, bound for Quebec, Bridge gave Britten his viola, with a note that read: 'so that a bit of us accompanies you on your adventure. We are all 'revelations' as you know. Just go on expanding. Ever your affectionate & devoted Ethel & Frank Bon voyage et bon retour'.
The viola remained in Britten's possession and, as we can tell from the AMC rehearsal photograph, he must have enjoyed playing it on those few occasions when time permitted.
In 1970 Britten offered the viola to his friend Cecil Aronowitz violist with the Melos Ensemble, the London Mozart Players and the English Opera Group and English Chamber Orchestras. A 'fine instrument' was how Charles Beare described it when Aronowitz took it to him soon after it was entrusted into his care. He played it for seven years, very likely giving the first UK performance of Britten's orchestrated version of Lachrymae, Reflections on a song of John Dowland, during the 1977 Aldeburgh Festival. A letter Aronowitz sent to Britten's assistant Rosamund Strode later that year indicates that he also used the instrument in his capacity as a teacher at the Britten Pears School for Advanced Musical Studies. He suggested it might be appropriate for the viola to be returned to Aldeburgh and perhaps loaned to students from the school for study purposes.
The next instalment in the viola's history occurs in the early 1980s when a young violist, Paul Cassidy, attended a course at the Britten-Pears School. At its conclusion he played Lachrymae to an audience that included Peter Pears. Pears was clearly impressed with his performance and when he learned that Cassidy did not own a viola he decided, in line with Aronowitz's advice, that the Guissani should be offered to him on loan.
The instrument was first assessed by Beares, where of course it was already known, and for nearly three decades Cassidy played it as a member of the Brodsky Quartet. Constantly aware of its ownership, he relished working with what he described as 'a piece of history.' Following the viola's return to The Red House in 2009 it became a key item in our permanent exhibition. However, it was decided in due course that it should make music again. At the moment, the viola Britten played as a child can be seen on exhibit in its place. The instrument that Bridge gave to his friend and pupil as he left for America in 1939 is on loan once more, this time to Hélène Clément of the Doric String Quartet.
- Dr Nicholas Clark, Librarian