Archive Treasures: Britten's centenary archive
Stories
To celebrate Britten's 50th birthday in 1963 many of Britten's friends and colleagues contributed to the volume 'Tribute to Benjamin Britten on his Fiftieth Birthday' edited by Anthony Gishford and published by Faber and Faber. For this birthday gift, Gishford asked contributors for 'something that they themselves liked and that they thought would give the recipient pleasure'. Many elements key to Britten's life thus far were represented in the volume. The Earl of Cranbrook, for example, wrote about 'The Suffolk Countryside' and Imogen Holst about 'Indian Music'. Mistislav Rostropovich wrote in his contribution 'I can say that when you and I are no longer here, millions of ordinary people will still be celebrating your birthdays – your 125th, 150th and 200th birthdays. I forsee these jubilees and congratulate you in advance – you and your music'. This is indeed what we did in 2013, in Britten's centenary year – we celebrated his life and his music in ways as varied as the first performance of Billy Budd in Russia to 'Billy Budd baked beans' served in Suffolk schools.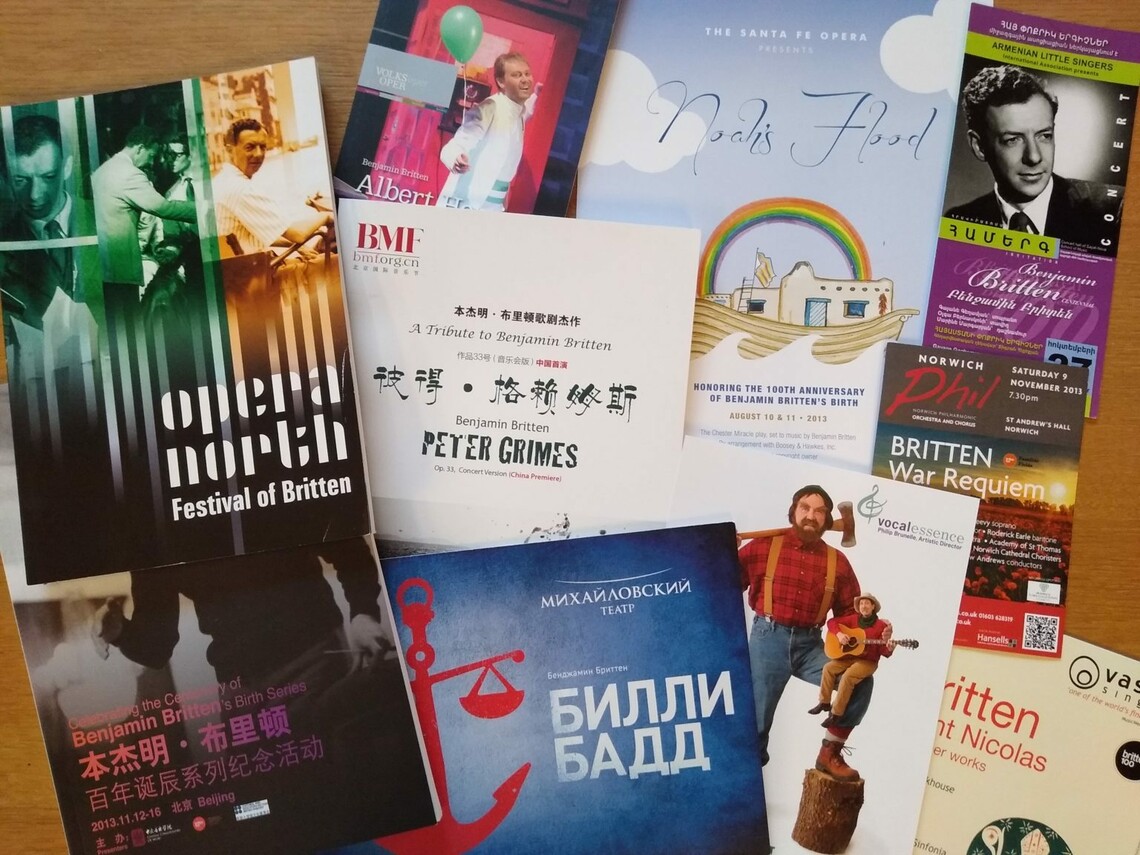 In the Britten Pears archive we endeavoured to collect as many items as we could to record how Britten's centenary was celebrated around the world. As you would expect, we collected many programmes for numerous concerts, recitals and opera festivals, featuring performances of Britten's works throughout that year, from all corners of the globe, from Cape Town to Beijing, from Melbourne to Santa Fe, as musicians and audiences celebrated internationally.
Nationally we celebrated with releases of a coin and a stamp in Britten's honour. The Royal Mint released a 50p coin designed by painter and composer Tom Phillips, featuring Tennyson's words 'Blow bugle blow' and 'Set the wild echoes flying' set by Britten in his Serenade. Britten was amongst several prominent figures born in 1913 commemorated in the stamp set 'Great Britons'.
Local celebrations included food and drink. Suffolk brewers Adnams and cidermakers Aspall each produced a special drink to celebrate the centenary. School caterers 'Eats' served Sing for Britten Suffolk sausages and Peter Pears peas to Suffolk school children on 22nd November. Local music and choral societies gave celebratory concerts and, together with Suffolk Archives, we collected the programmes and press reviews.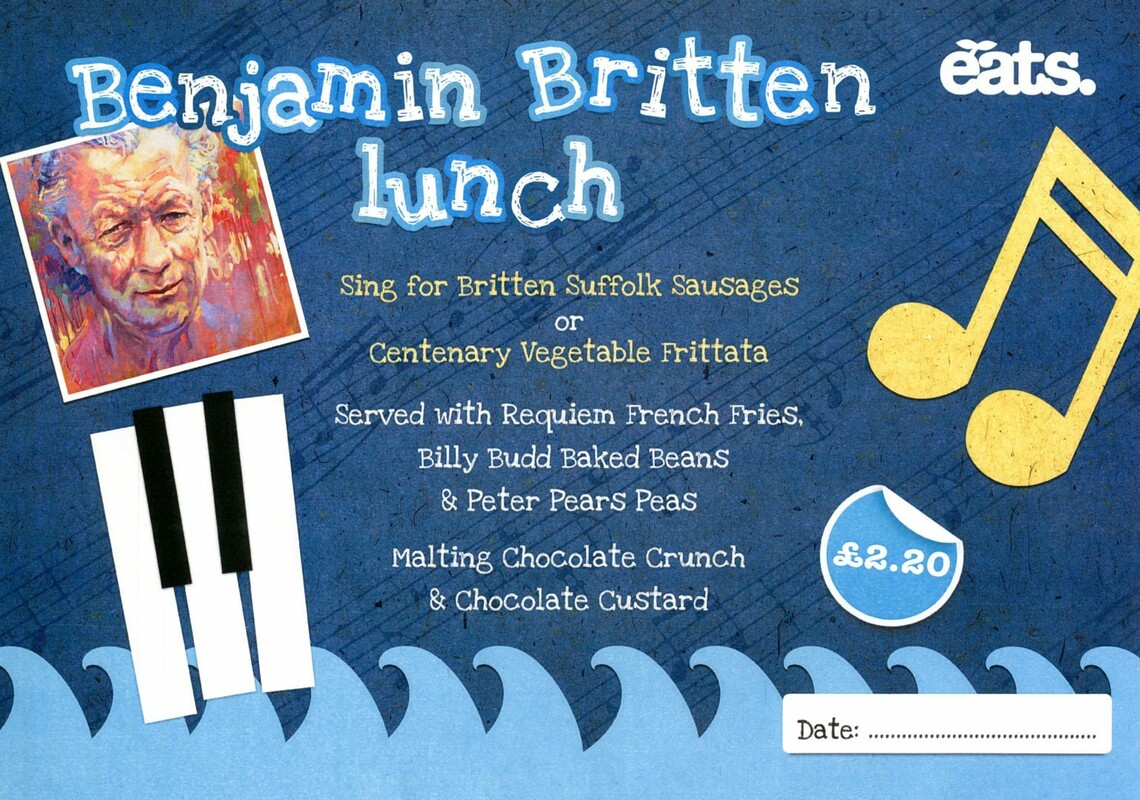 In Aldeburgh, at Britten's home – The Red House – we held many events as well as opening our first permanent exhibition giving an overview of Britten's life and work. However, one of the most important celebrations was the opening of our new Archive building by Dame Janet Baker on 14 June 2013.
Our wonderful state-of-the-art building was designed by architects Stanton Williams. The paper and art strong room is passively controlled using low-energy means, through the building's thermal mass, rather than air conditioning to maintain the optimum temperature and relative humidity for preserving our collections.
This is where we house our archival record of Britten's centenary year and where we make these treasures, together with the rest of our collections, available to readers and visitors on site, as well as to the rest of the world remotely through our digitisation work. This collection of programmes, press reviews and memorabilia tells so many stories about how people chose to celebrate the centenary of Britten's birth. I wonder how 'ordinary people' will celebrate his 125th birthday in 2038?
- Judith Ratcliffe, Archivist