Archive Treasures: A year in pictures
Stories
In our archive is a wonderful photograph album that Britten put together from 1935 to 1936, pasting in photographs and writing captions. It is fascinating looking through this album. I feel as if I am travelling back to a different era as I peer into the small black and white photographs. There are some great images – Britten clearly knew how to take a good photograph. The photographs are nearly always taken outdoors as it was difficult to take clear images indoors. Britten took his photographs sparingly, recording special occasions or moments on holiday and beautiful views- very different to the numerous snaps and selfies we take today. Looking through the album we can enjoy travelling with Britten through the year.
In 1935 Britten was working for the General Post Office film unit writing music for documentary films such as The King's Stamp, Coal Face and most famously Night Mail. The Unit shut for the holidays during August and Britten returned to Lowestoft to catch up with friends and family, spending time on the beach and swimming daily in the sea.
Later that month Britten went on a boating holiday to the Norfolk Broads with his sister Beth and friends. He enjoyed sailing and the beauty of the Broads, filling several pages of his album with scenic photographs.
In February 1936 Mrs Britten moved from Lowestoft to Frinton-on-Sea in Essex. Britten went to Lowestoft to help with the sorting and packing and included in his album final pictures of his childhood home. He wrote in his diary on 19 Feb 'I don't think that mum regrets leaving Lowestoft. … I personally don't mind a scrap – except for the fact that one suddenly realises that now, one's youth is so to speak gone. An era is passed. 'In Lowestoft when I was young' etc. Purely sentimental – but life is coloured by sentiment.'
In April Britten went to the Festival of the International Society for Contemporary Music in Barcelona to give the first concert performance of his Suite for violin and piano with violinist Antonio Brosa. There he met fellow composer Lennox Berkeley and his friend Peter Burra. Burra had been at school with Pears and it was through Burra, particularly after his death in an aeroplane accident in 1937, that Britten and Pears became friends.
Whilst in Barcelona Britten spent time sightseeing, visiting Sitges, mount Tibidabo and Montserrat – photographs of his excursions with friends cover several pages of the album. After hearing Catalan dances at the Mont Juic Festival, Britten and Berkeley collaborated on a suite for orchestra based on the tunes, naming the suite after the festival and dedicating it to the memory of Peter Burra.
In July and August 1936 Britten went on an extended holiday to Cornwall, renting a chalet in Crantock. There he worked on Our Hunting Fathers for soprano and orchestra with text by WH Auden. Soprano Sophie Wyss, who was to give the first performance at the Norwich Triennial Festival in September, came with her husband and family, and she and Britten rehearsed at the piano in the village hall – and studied the music manuscript on the beach!
Britten enjoyed swimming and sunbathing in Cornwall, often nude, as well as walking – he pasted photographs of his favourite spots in his album. He wrote in his diary on 19 Jul 'I eventually go out for a terrific walk along cliffs well past Holywell – starting at 11.0 don't arrive back till 3.30. I have never enjoyed a walk so much – and the climax is when I find a colossal chasm in the rocks – miles away from civilisation – climb an enormous distance down to rocky shore & undress & bathe stark naked. The sheer sensual ecstasy of it! – coupled with the real danger (currents & submerged rocks) & doubts whether I shall be able to climb the tortuous path to the top. Utter bliss.'
Berkeley visited Britten and their friendship grew as they spent five days together writing, talking, walking and swimming. Britten wrote in his diary on 26 July 'I have lunch with Lennox & after a short read – he, my H.F. [Our Hunting Fathers], & I his Jonah & also Wozzeck (marvellous work) we go for a glorious walk via Holywell (tea) on to Hoblin's Cove – my famous spot of last Sunday – and even further. He is a dear and we agree on most points & it is nice to discuss things we don't agree on! Get back for a meal at 8.30 – talk read & an early bed – exhausted!'
Then Britten's family – mother, sister Beth, brother Robert and his family – arrived and there are photographs of picnics and games of rounders on the beach, until Britten was called back to London to work on music for the feature film Love from a Stranger.
As a footnote, I am not surprised, considering Britten's love of cars, to find several photographs of motors in his album amongst his holiday pictures!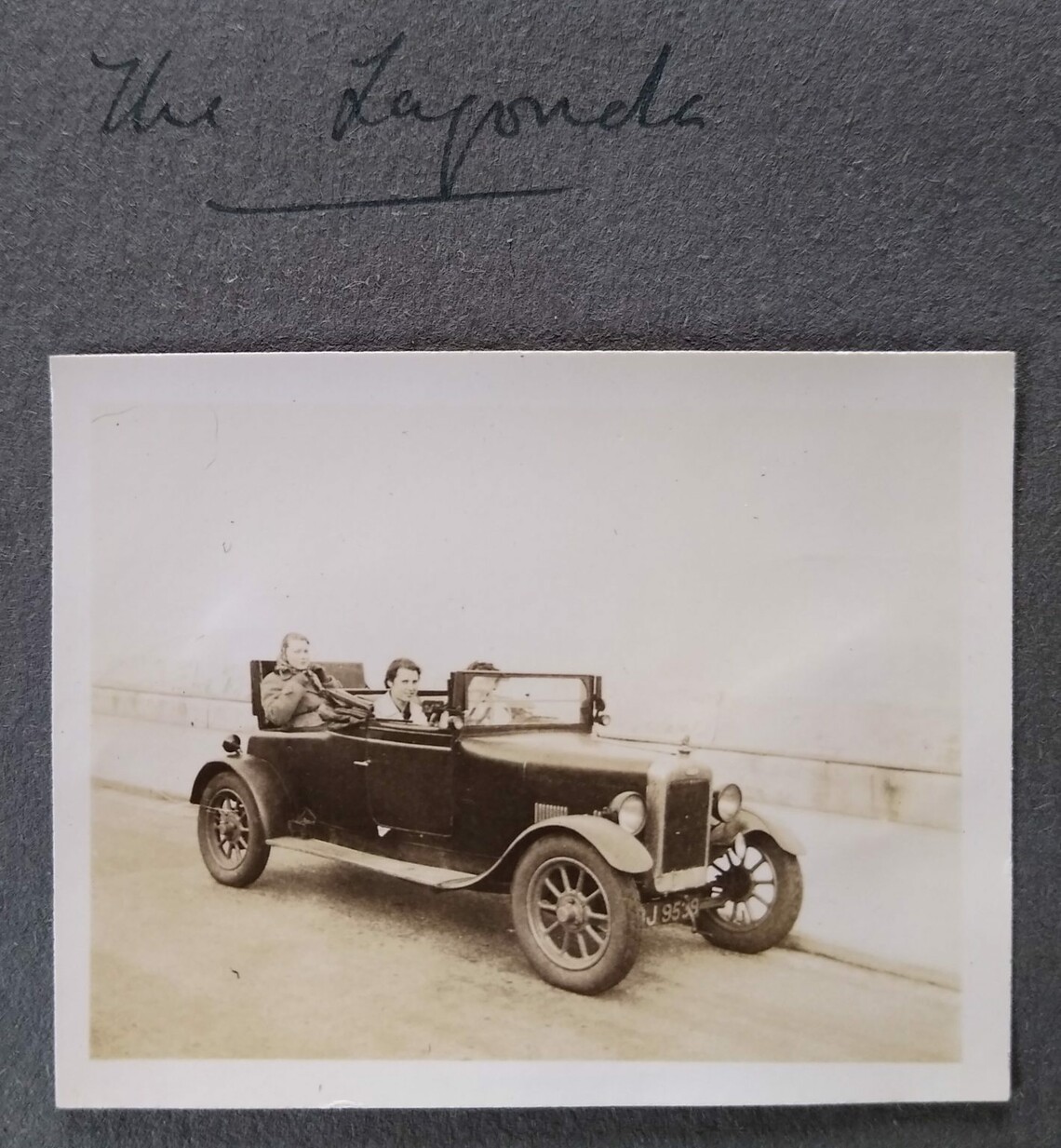 - Judith Ratcliffe, Archivist