Archive Treasures: 70th birthday presents by Hockney and Holst
Stories
The 33rd Aldeburgh Festival in 1980 marked the 70th birthday of Peter Pears. His birthday fell on the last day of the festival and a whole day of celebrations was held. The day began with bell ringing, then a walk along the Sailor's Path 'with exotic interruptions'! An afternoon concert by the English Chamber Orchestra was followed by a Birthday Banquet held in a marquee – the menu featuring food inspired by Britten operas including 'Le Saumon fumé Peter Grimes' and 'Les crèmes brûlées Nebuchadnezzar aux fraises von Aschenbach (Act I)'.
The day ended with a Gala Concert introduced by Colin Graham – an evening of music and surprises, as well as special presents. One surprise present was a piece of music written by Imogen Holst especially for Pears' birthday. Called 'A Greeting', for 2 sopranos, mezzo-soprano and piano, it was based on music by Tchaikovsky, Bach, Monteverdi and Britten. Holst's music manuscript, which she gave to Pears, is held in our Archive.
Holst also wrote an article for the 1980 Festival programme book on 'Advantages of being seventy', no doubt with Pears' significant birthday in mind. From the position of a practised septuagenarian (she turned 70 three years earlier), Holst listed many benefits of being 70, writing 'there is no more need to be in a perpetual hurry in order to get through the day. This is such an immense advantage that even after several years' experience of being in the seventies I'm still finding it a miracle. It makes up for no longer being able to run or skip or leap. And if one lives in Aldeburgh there are advantages in walking at an Andantepiacevole speed, for it leaves time to look at the changing colours of a sunset or at the pattern of bare branches of a tree or the contrapuntal circling of the gulls as they fly over Crag Path'.
At 70 Pears may not however have planned to follow Holst's advice as he continued to dedicate much time and energy to the Britten-Pears School at Snape Maltings. Indeed, another of the day's special presents supported the School, being the cause closest to Pears' heart. Plans for a birthday present from friends and Festival goers had started at the beginning of the year when a fund was set up and letter sent out asking for donations towards providing bursaries for students.
There were however sufficient donations for an additional present – relating to another of Pears' passions – collecting art. A portrait was commissioned of Pears at 70 from the artist David Hockney. Hockney visited during the 1980 Aldeburgh Festival to make the portrait in the drawing room of the Red House on 10th June. Festival photographer Nigel Luckhurst recorded the occasion; his contact prints show him moving around sitter and artist and in many shots the portrait of Britten by Henry Lamb poignantly looks on from above the mantlepiece. The Hockney portrait was presented to Pears on his birthday and remains in the Britten Pears Arts collection.
Image gallery
A gallery slider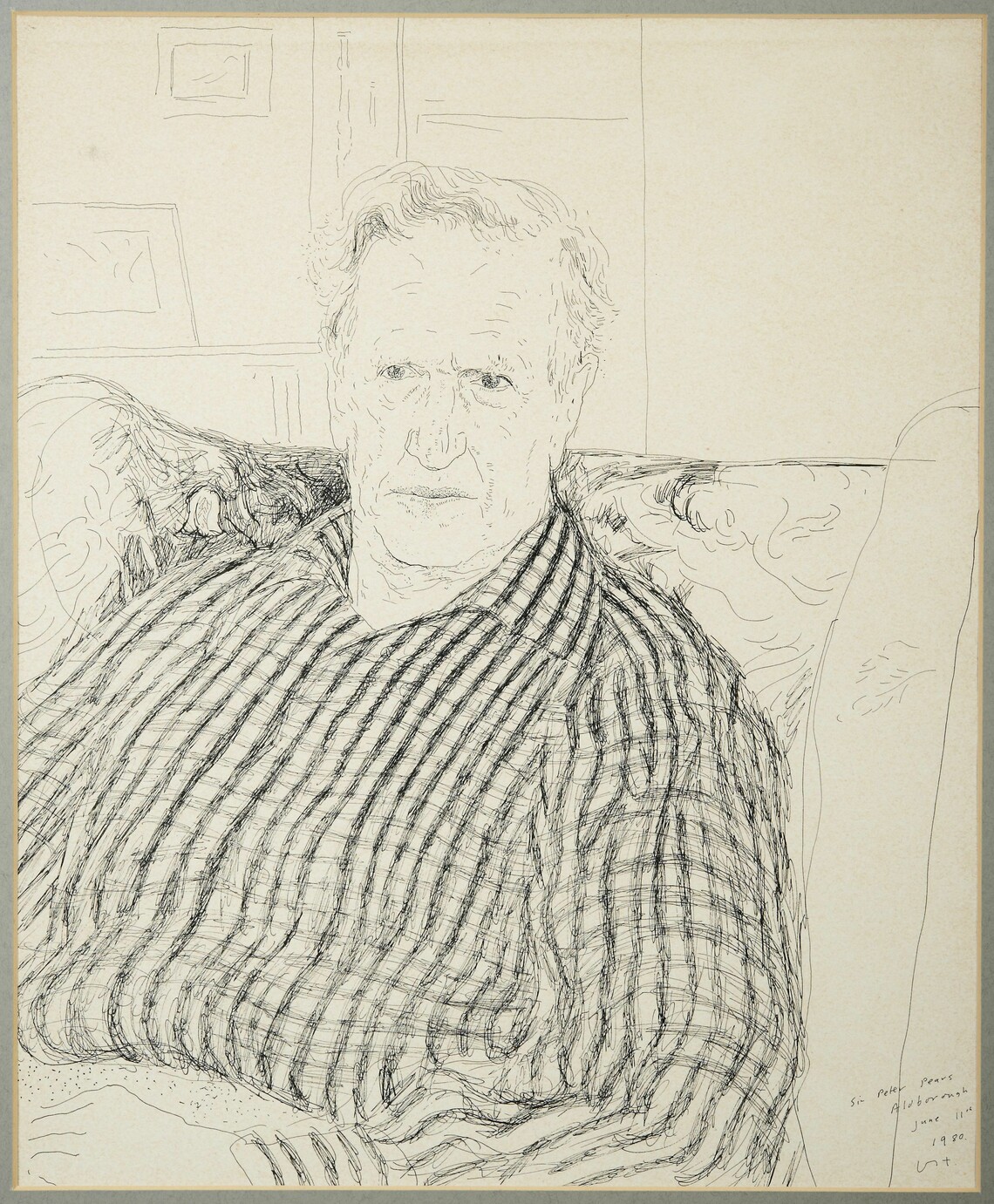 Although the portrait was no surprise, the giant 'cake' wheeled onto the stage during the Gala Concert probably was – and especially the lady that appeared from it! Pears wrote after his day 'Needless to say I never had such a wonderful birthday – so full of music and friends'.
Pears' 70th birthday was celebrated in many other ways that summer. For example, a recording of Britten and Pears performing at Snape Maltings in 1972 was released to mark the occasion. It was sold in a limited edition of 350 records, in aid of the Peter Pears Bursary Fund, with each copy signed by Pears. Two celebratory concerts were held in London's Queen Elizabeth Hall at the beginning of June with Pears himself performing, and a first day cover was issued. Happy Birthday Sir Peter!
Judith Ratcliffe, Archivist